AGC Scholarship Recipients
Jason and Ashley – New Hampshire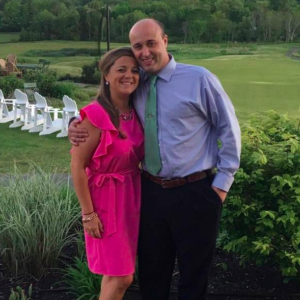 Unexplained Infertility
"While I may not have any children here to raise on Earth, I became a mother the moment I opened my heart to the idea of bringing a child into this world." – Carly Marie
After five years of marriage, our biggest dream is to have what most families take for granted: a family! A huge obstacle for us is saving up thousands for fertility treatments or adoption fees in order to reach our goal. New Hampshire is one of the states that does not offer insurance coverage for fertility treatments, medications and family building. We are so thankful to AGC which offers a wealth of knowledge, support and connection with other couples attempting to overcome infertility. Jason and I are beyond grateful that AGC has offered to support us with a scholarship.
Kami and Adam – Arizona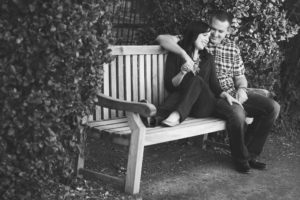 Male Factor
We have been trying for four years to get pregnant but have been unable to get pregnant on our own, and with the help of multiple medicated IUIs. We have wanted more than anything to be able to experience a pregnancy journey of our own. After exhausting our savings, we had started losing hope on the idea of our dreams coming  true. During this time we have become foster parents and are blessed to have adopted a sweet little boy.  He has been with us since he was just a few days old. We deeply desire to be able to give him a sibling. Foster care and adoption aren't for the faint of heart, neither is an infertility journey. With both infertility and a foster care adoption having been emotionally taxing roads, we weren't sure which route we could take or when we would be able to add to our family again. With the help of the AGC Scholarship we are excited to begin growing our family and have another change at pregnancy! This has brought us hope and we know we are incredibly blessed for this opportunity. "God knew it doesn't matter how your children get your family.  It just matters that they got there." – Kira Mortenson
Kate and Natalie – Texas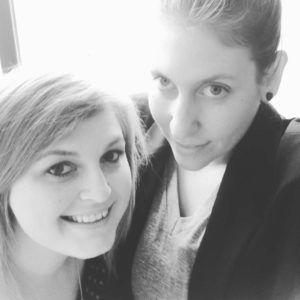 Unexplained
"We are meant to be parents, we are meant to raise a beautiful family and have children that will be better people with each new day they are given. We will teach them that no matter how hard life gets, the night will come, and the morning will follow, and we will not stop trying until we are able to do so, or until we are told there  is no more hope to grasp onto."
Laura and Cameron – Virginia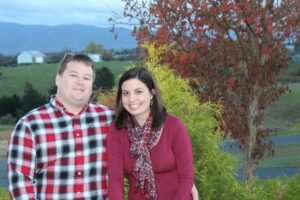 Endometriosis
A few months ago I went through what can only be described as the most difficult challenge of my life. After over a year of trying, I miscarried our baby girl at 16 weeks. It was during this trying time that someone told me, "Life can be a beach. Some days the waves will be harsh and rugged and knock you down, and that's okay. Because without those rough days one wouldn't nearly appreciate to the extent that we do those days when the water is still as glass and a sight to behold. Those are the glorious days that we remember throughout life and that make a serious impact." While the waves have been rougher for us lately, I'm quickly learning the truth in that statement. If it weren't for those trying times, Cameron and I wouldn't fully appreciate everything that this scholarship means and the incredible opportunities that it will present for us. We are so grateful and look forward to the day when we can send you all a happy update regarding our growing family. Thank you so much AGC for sharing the best gift you can with people, hope.
April and Tim – New Hampshire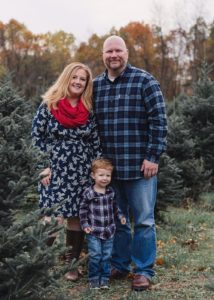 Endometriosis/ Unexplained
We always knew we wanted a family and after two years of trying and then two rounds of IVF we were blessed with our son in 2014. As time went on we did what anyone would do, hope we would conceive naturally the second time. Its been almost three years and that  hope has not become a reality. So here we are trying to grow our family and in the midst of the next IVF. This would not have been possible without the support and motivation from AGC. Their invitation to the Falmouth Road Race was just the sign we needed to keep the hope alive. This next part of our journey will not be covered by insurance so the money we received is such a big help. We are so honored and thankful to AGC and everyone who has supported us along the way.
Robin and Ed – Ohio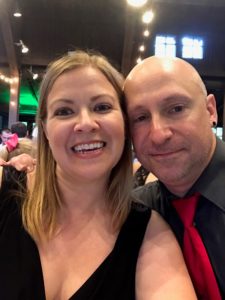 Unexplained Infertility
First comes love, then comes marriage, then comes infertility…Wait!…What? That's not how we remember it. Unfortunately, this was our reality as I was diagnosed with unexplained infertility and PCOS. Through many heartaches and tears, we always had hope. Hope is what kept us moving forward. We appreciate what your organization has done for so many, and continues to do in helping couples achiever their dreams. We are forever grateful, and overwhelmed with joy that AGC has given us another chance to pursue our dreams. With support of AGC, we can keep hoping that one day we can finally realize the childhood  adage, "the comes a baby in a baby carriage."
Julianne and Pat – Massachusetts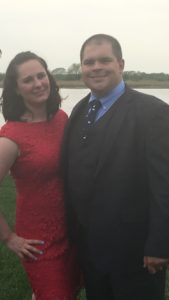 Male Factor
In the summer of 2008 I had just met the person that I wanted to start a family with, she many not have known it yet but I fell for her during our first meeting. Fast forward a few years, numerous addresses and job changes, we tied the knot! A few months into our marriage we decided to begin growing our family and never dreamed the journey that we would be embarking on. It was discovered that I had azoospermia. After more tests and attempted retrieval we were told that my body does not produce sperm and never has. That was devastating to hear and comprehend. Having a family with Julianne is all I have dreamed about. Life throws curveballs sometimes and after we had time to grieve we decided donor sperm would be the right fit for us to grow our family. AGC came into our lives giving us hope and a sense of community. With the generous financial and emotional support from AGC Scholarship Foundation we are able to start the family we always wanted. We feel blessed and are forever grateful. "Fight on for the fairytale, it does exist." – Joy F.
Jill and David – New Hampshire
Unex
plained Infertility
"Already in my heart, someday in my arms" is a quote on necklaces that we both wear everyday. It reminds us to never give up hope of becoming parents. After over ten years of treatments and no definitive answers, we thought we had hit a wall. Our angel, my lifelong childhood friend had offered to become our gestational carrier to help us make our dreams come true.  We are so thankful for AGC Scholarships for helping us continue our pursuit to parenthood! Be the person who didn't give up on their dream!"
Jon and Chelsea – Oregon
M
ale Factor Infertility
"If you want to go fast, go alone.  If you want to go far, GO TOGETHER." (African Proverb) We couldn't have gone through this without our family and friends. We truly believe in the power that comes when we work together. We are grateful for this scholarship to help us make our dreams happen! Thank you!
Dave & Alex – Texas
Unexplained Infertility
September 2013. That was when Dave and Alex decided that they wanted to grow their family and become parents together. Alex didn't know what lay ahead for them, but she never imagined how long and difficult their roads would be. After more than 15 months of trying, with the all-clear from the doctor's, Alex and Dave received the wonderful news that they were finally expecting in March of 2015. But their joy was not to last, as Alex miscarried in April.
The six months that followed were filled with doctor visits because Alex's body wasn't healing from the miscarriage.  By October her body had healed enough and the doctors began working with the couple to have a child. Although the couple had no known issues, they tried many drugs, injections, IUIs, none of which ever yielded a single pregnancy. With IVF as their last hope, but financially just out of reach, Alex and Dave reached out to anyone who might be able to help them build the family they've been so desperate for. With this grant they are finally able to move forward with IVF beginning in January 2017.
Bryan and Rachel- Indiana
Klinefelter Synd
rome (Bryan) and Unicornuate Uterus (Rachel)
"I began to think about what I really wanted in life. Was my sole desire to become pregnant? No. My longing was to be a mother/father. And the method was not important." – Unknown
Emily and Matthew – North Carolina
Male
& Female Infertility
Through testing it was determined we both have infertility issues and would not be able to conceive on our own. IVF was not an option for us either so we proceeded with four IUI cycles in 2014. We had several acupuncture treatments, meds, supplements, etc. to increase our pregnancy chances but were never successful. After six years of infertility and failed IUIs we moved onto adoption to grow our family. In 2015 we happily welcomed our daughter and  are currently in the process of adopting her full biological sibling that will be born in the beginning of 2017. We are so very grateful to AGC Scholarship Foundation in helping us achieve our dream of having a family. Without you it would not be possible.
Niki & Diswal – Texas
Male Fac
tor
Before even deciding to marry, Niki and Diswal wanted to have children together. Sadly, the month after their wedding, Diswal was diagnosed with non-obstructive Azoospermia. It was a devastating blow. But true to their nature, they refused to give up. Niki used her PhD earned research skills to find the best doctors, supplements, and treatment plans, and Diswal agreed to undergo an invasive Micro-TESE. Sperm retrieved via Micro-TESE require IVF; Niki will undergo this procedure afterwards. The generosity of AGC Scholarships puts them one step closer to ensuring that Niki's father will be able to meet their child before his late stage Parkinson's advances too far.
"When we start to feel broken hearted on this journey, we remember and Indonesian proverb; 'Berakit-rakit-ke hulu, berenang-renang ke tepian'. Directly this translates into  'Raft upstream, swim to shore', but the beautiful meaning behind it says 'Bear pain first, happiness follows'. This proverb reminds us that hardship and heartache are simply a part of life. We push through our pain because we know there is happiness, a family, in our future."
Stacy and Mark – Virginia
PC
OS
Stacey and Mark have travelled a long, rocky road down the infertility path. Conceiving their son in 2014 after many years of trying and losing him unexpectedly to SIDS is just the beginning. There is a light at the end of this long road with a new possibility of adoption that has suddenly been offered to them. They are thankful to AGC for all that they do for families trying so desperately to have children. Their generosity will certainly make the process easier.
Janelle & Spencer – Utah
Male Factor
After years of fertility testing, treatments and procedures through IVF, we were finally blessed with the birth of our daughter, Nona. We were heartbroken when we were told her life on earth would be short. Our experiences have completely changed our lives for the better, even though we wish we wouldn't have had to say goodbye so soon. Going through this has made us more aware of others' silent burdens. We know what happiness is and hope to increase ours by having a sibling for Nona. Our doctors tell us there is hope for future children, but because of our medical history it may take us a few tries. We're not ready to give up hope just yet.
Heather & Brandon – Ohio
Endom
etriosis
After years of trying Heather and Brandon sought out several different medical opinions. In 2014 Heather was diagnosed with endometriosis. Endometriosis is defined as a tissue that normally lines the inside of the uterus (the endometrium) that instead grows outside the uterus (endometrial implant) which causes extreme pain and in some cases infertility. As a result of this diagnosis, Heather is proactively healing her body through traditional Chinese medicine (acupuncture and herbs), yoga and the unwavering support of family and friends. "We have tried IUIs for many years and were informed by our doctor that IVF is the best option for conception. Infertility treatments are stressful and extremely expensive but we are optimistic that IVF will be our gateway to parenthood."
"We are extremely thankful to AGC Scholarships for such an amazing opportunity to receive IVF support for such a costly procedure not covered by our insurance. Building our family means everything to us. We could not have moved on to the next step of journey without you."
AGC provided a generous amount of financial support for Brandon and Heather's first round of IVF. While IVF did not result in pregnancy the first time around,  Brandon and Heather received a Partnership for Families Grant for IVF from the Ahuja University Hospitals Fertility Center and are currently pursuing their second round of IVF.
Natasha & Brandon – New Mexico
Premature Ovarian  Insufficiency
"Being able to have the opportunity to carry a child and experience pregnancy now is my ultimate goal, and with the help of your generous donors and scholarships, my dream could very well become a reality."
Sarah & Marco – Massachusetts
PCOS
Marco and Sarah have been married for 8 years.  They both have a deep rooted love for family and have always wanted one. For over 6 years they tried to create their family through assisted reproduction technology due to severe PCOS. They survived 2 losses, including an ectopic pregnancy. At the end of 2015 they decided to move toward adoption. They worked hard to gather resources and were able to begin working with an agency in December. Their life took a wonderful turn when they were matched with a woman in April of 2016. They recently brought home a spectacular baby girl and are happier than they ever imagined.
Katie & Jesse – New York
Ma
le Factor
We both have tight knit families and always knew we would want to have kids. We started trying for a baby almost right away after we were married in July of 2015. We were both in our thirties, with Jesse turning forty later that year, we didn't want to waste any time. In the spring of 2016 it became clear we were having trouble and started the process of fertility testing. The day before Jesse was scheduled to go in for his tests, we rushed him to the hospital with unusual migraine symptoms. That's when everything changed. He was diagnosed with an operable brain tumor, and low grade astrocytoma. He immediately underwent surgery and we started preparing to preserve his fertility before starting chemotherapy. That's when our world was rocked again and we were diagnosed with male factor infertility. We were told IVF was our only option. UPDATE: Katie and Jesse are expecting June 2017!
Jenna & Josh – California
Tubal I
nfertility
"Our fertility struggles, like so many others, have been one long, windy and rather bumpy road that seems to never end. Through all the heartbreak, we have to constantly remind ourselves how fortunate we are that we live in a time that there are options for us to become parents. We've learned that no matter how many obstacles fall in our lap, that we will always have to find a way to keep hope. We truly believe that this is a battle that is so worth fighting and we will soon have our happy ending."
Courtney & Brian – New Hampshire
Male Fac
tor
Our family feels blessed beyond measure to have been chosen by AGC for a scholarship towards our IVF treatment. After years of heartache and negative pregnancy tests, we found out what nobody ever expects, it wasn't "that easy". After using all of our savings in 2011 to have our son, we never expected to be able to do it again on a cop and teacher's salary. But with the help of AGC, we hope to be able to give our son a sibling and bring even more love into our family.
Geneva & Shawn – Las Vegas, NV
Tubal Infertility
Shawn & Geneva have been married for 4 years and have wanted children since they said I do. After a miscarriage and 3 ectopic pregnancies, Geneva had to have her tubes removed – leaving IVF as their only option to conceive.
"For a moment I tried to envision our life with out kids but I couldn't make my heart follow my mind."
Natalie & Chris – Kansas City, MO
Tubal Infertility
Post surgery for a fibroid removal, Natalie & Chris found out from their RE that she had not 1, but 7 fibroids and fluid filled Fallopian tubes, all of which were removed.
"My goal is to raise greater awareness in the African American community surrounding infertility and shine a light on this very real and very relevant subject and let others know that they're not alone."
Celeste & Kevin – Massachusetts
Turner's Syndrome & Kallman's Syndrome
Due to medical conditions, Celeste and Kevin chose adoption as their route to parenthood. After a devastating eight years and three failed placements, they decided to move forward with a new agency.
Kevin and Celeste welcomed their son Matthew in March 2015. "Crazy how your heart can grow. I think our hearts are getting stretch marks".
Mary & Robert – New York
PCOS
"Glass is just glass until it is tossed around the ocean for years, constantly being pounded against the sandy shoreline before being dragged back out to sea only to repeat the whole violent process again. Once it finally comes to rest on shore as sea glass, it is a frosted, rounded, smooth thing of beauty ready to be made into jewelry. The emotional turmoil of dealing with infertility made me like a piece of glass tumbling and crashing around the ocean. It was through this turmoil, however, that I was made vulnerable. Vulnerability allowed me to let kindness into my life. I learned how to be loved and, in turn, re-learned how to love. What an important lesson to learn before becoming a mother. I now feel like that completed piece of sea glass, resting on the shore."
Mary and Robert welcomed their son John in March 2015.
Lindsay & Tim – Maine
PCOS
After years of treatment, Lindsay and Tim found out they were pregnant via IVF. In 2013, they had the amazing experience of the birth of their son and then just 9 short weeks later, the devastating loss of their son.
"We know that infertility treatments are stressful, painful, overwhelming, and demanding, but we also know how amazing and worthwhile they are. We had the opportunity to experience parenthood and bring our beautiful baby boy into the world because of these treatments. We want nothing more than to be parents again and experience the love between us and our future children."
Lindsay and Tim welcomed their second born son via FET in February of 2015.
Marissa & Bob – Pennsylvania
Male Factor Infertility & Unexplained Female Infertility
"We knew when we were married that it would be a challenge for us to have children together for medical reasons. We were committed to one another and prepared for this-or so we thought! Because of the difficulty of our situation, we began both the process of fertility treatment and adoption in June 2012. We could not have foreseen just how daunting our family building experience might be, or how far away success might feel. We have made every possible adjustment that we can to our income, to our lifestyles, and to the images that we held for our family in order to pursue our dreams. These include working extra jobs, living in a small apartment without many conveniences, paying extra for additional insurance coverage that would allow for us to try new procedures, cashing in all of our retirement funds, and even traveling 19 hours one way by car twice for treatment! We have made each of these decisions with love and with optimism."
Marissa and Bob are now expecting with a due date in August.
Gina & Salvatore – New Jersey
Unexplained Infertility
After a complicated pregnancy, Gina and Salvatore had their daughter two months premature. Her birth was a trying time for them as she spent weeks in the NICU. A year after her birth, they started trying for a second child.
It took years of failed treatments and cycles. The second of four IVF cycles ended with an ectopic twin pregnancy. Gina and Salvatore decided to move forward with adoption. "We are overjoyed because this really is our miracle cure. It' a miracle that will join our family and I cannot wait to end this novel that I seem to have created with: "..and they lived happily ever after."
Amy & John – Minnesota
Stage IV cervical cancer diagnosis which resulted in a hysterectomy
At the age of 32, Amy was diagnosed with Stage IV Cervical Cancer. Upon diagnosis, it was recommended that she have a full hysterectomy immediately. Trying to preserve her fertility and ability to have children, she declined the hysterectomy. Unfortunately, the treatments were unsuccessful and she needed to have a radical hysterectomy.
"And even though I do not get to conceive a child, I am excited to be a part of the moments that are pregnancy. I am looking forward to the first ultrasound, to hear a little heartbeat, to know that the surrogate is my personal angel who has sacrificed so much so my husband and I can have a child."
Kristy & Jay – Massachusetts
Unexplained
After several failed IVFs, Kristy & Jay received news that they had a positive Beta. "We entered a time of overwhelming joy and excitement, imagining so many wonderful days ahead. Sadly, it was not long after that I had an early miscarriage. I don't think there are words invented yet to describe the deep sorrow and pain we felt. After so much struggle climbing to the peak of success, this was a ravine so deep we weren't sure we'd climb out. "
Kristy, Jay and their medical team have decided to move forward with a new treatment plan. "There is nothing that we want more than to become parents. In some ways, we already feel as if we *are* parents in our hearts – at the core of who we are – and we simply haven't met our child(ren) yet. "